When it comes to global outsourcing services, there are some popular places to look at, like Asia/Pacific, EMEA, and Latin America. Of course, the dominant positions for the best offshore software development belong to India and China. However, according to several pieces of research from Gartner, Inc., the investments in these traditional outsourcing countries have declined and shifted to emerging alternative countries to diversify the sourcing strategies which meet the needs of multinational corporations. The IT buyers, for now, go beyond the cost reduction but also focus more on local-language skills, cultural compatibility, travel-time decrease, and same-working-day communications. With diverse choices for qualified offshore service providers, businesses could support their broader geographic footprints and establish their global delivery services wherever they are.
Among different offshore outsourcing choices, Vietnam is proven as a dynamic and productive environment for offshore software development in the APAC region. This country is where IT buyers look for a qualified and cost-effective talent pool. Let's discover some quick facts about Vietnam's rankings in different reports of global software outsourcing:
Vietnam's Rankings in Global Software Outsourcing Reports
Vietnam is ranked #5th in the 2019 Kearney Global Services Location Index
Vietnam is one of the nascent countries for digital maturity and high levels of cybersecurity protection (according to Kearney's 2019 report)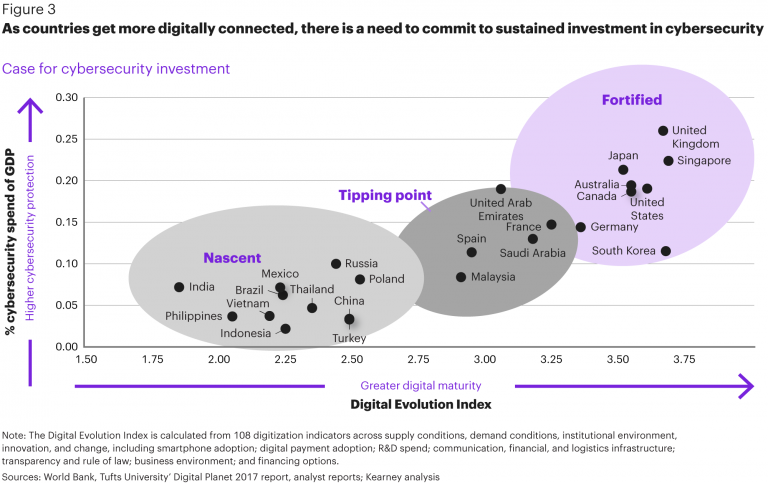 Vietnam is ranked #13th in TSGI Top 50 Digital Nations all over the world, according to Tholons Services Globalization Index 2019
Vietnam ranked #18th in the Tholons Top 100 Outsourcing Destinations 2016
Vietnam as a Potential Offshore Software Development Hub
According to the Vietnam Software and IT Services Association, Vietnam software outsourcing has gained traction over the last decade, with a revenue of US$8.8 billion in 2018, turning Vietnam into an emerging competitor of India and China.
Annually, more than 40,000 technical engineers graduate from universities entering the job market (2014 Vietnam Information and Communication Whitebook).
Several continuous investments in tech education, like US$55 million for Vietnam's education technology (Edtech) in 2018 or US$4 million investment from a Hong Kong-based equity firm, were given to Vietnamese startup Everest Education.
Some tech giants have outsourced to Vietnam, both in manufacturing and R&D: Intel, Samsung, Microsoft, Fujitsu, Foxconn, Panasonic, Bosch, Alcatel-Lucent, Amdocs, Avaya, Cisco, Juniper Networks NEC, Toshiba, Hitachi, LG, HP, etc.
Ha Noi and Ho Chi Minh are always at the Top of outsourcing Tholons indexes, but Da Nang city, which is located in the centre of Vietnam, also appears to be an ideal and potential hub for ICT in general. The city was ranked first in the Vietnam ICT Index 2016 (from the Ministry of Information and Communications of Vietnam).
As tech firms worldwide continue to use IT outsourcing as a part of cost optimization practices, you could choose Vietnam as a reliable nation for extending your technology capability with the most effective cost while mitigating the risk of sophisticated cyber threats.
References
The 2019 Kearney Global Services Location Index, 2019, kearney.com.
Tholon Services Globalization Index, 2019, tholons.com.
Tholons 2016 Top 100 Outsourcing Destinations - Rankings & Executive Summary, 2016, tholons.com.
Pritesh Samuel, Vietnam's IT Sector: 5 Industries to Watch, 2019, vietnam-briefing.com.
Gartner Says Alternative Offshore Locations for IT Services Are Emerging as Global Delivery Models Evolve, 2012, itone.lu.
Spotlight on Vietnam, the Leading Emerging Market, 2017, www.studocu.com.