Software outsourcing development has become a common practice in today's competitive business environment. While most economies worldwide have taken a battering from the pandemic, Vietnam emerges as a country with rapidly developing technology sectors and offers some great opportunities for Western companies moving into a post-COVID recovery phase.
If you are interested in hiring developers or outsourcing software development in Vietnam, this article will reveal the key numbers connected to hiring Vietnamese software developers. We also explore how potential the country's IT industry is.
Let's roll!
Overview of Vietnam's IT Industry
Vietnam's rankings in global software outsourcing reports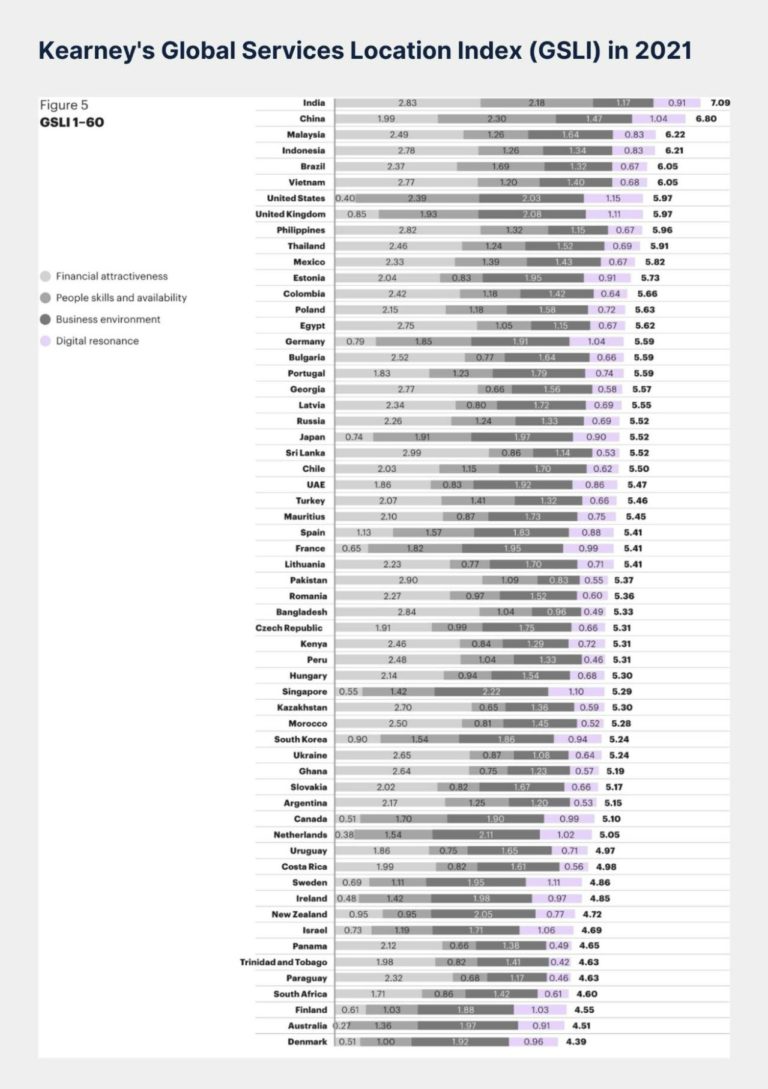 Source: Kearney's Global Service Location Index 2021
Vietnam was placed #9 in the world's Top 50 Digital Nations, up to four places from 2019, according to the Tholons Services Globalization Index 2020.

Source: Tholons Services Globalization Index 2020.
The abundance and variety of Vietnam's IT human resources
Based on TopDev's 2021 IT market report, the total number of developers currently in Vietnam (as of Q1/2021) was 430,000 IT developers, and over 55,000 graduated IT Students from over 153 IT institutions per year. In addition, several Vietnamese expatriates previously worked as programmers and engineers in the west. They've currently returned home as facilitators to help overcome cultural and language barriers when you outsource with Vietnamese developers. These resources provide a large workforce for IT-related industries and, at the same time, make Vietnam a potential partner in software outsourcing services in the region.
What's more, the report also presented Vietnam's top popular tech stacks used in 2021:
Database: MySQL, SQL Server, PostgreSQL, MongoDB, Redis, and Oracle.
Programming languages: JavaScript, PHP, Python, Dart, C#, Swift, HTML/CSS, and others.
Source: TopDev's 2021 IT market report
Vietnam's IT market as a potential offshore software development hotspot even in the time of COVID-19
If you look into the technology industry in Vietnam, you will be pleasantly surprised at the current opportunities here.
Statista also reported the total revenue of the software industry in Vietnam reached $5.44 billion in 2020, indicating an increase of nearly $500 million compared to the year before. From 2016 to 2020, this figure increased year after year. Among various offshore outsourcing options, Vietnam has established itself as a dynamic and productive environment for offshore software development in the APAC area. Many businesses and organizations in the United States, Europe, Australia, and Singapore now see Vietnam as a strategic alternative.

Source: Statista
"Even the pandemic cannot rattle Vietnam's outsourcing strengths", according to the Forbes Technology Council. As the rest of the world battles a pandemic, Vietnam is emerging as a bright example of societal resilience and tech fortitude. In the Vietnam IT Market Report 2021 by TopDev, after one year of COVID-19, Vietnam was listed in the top 5 countries with the best responses to COVID-19 as of March 2021. Thanks to the quick and effective actions taken by the government, most tech companies in Vietnam have been back to normal work soon.
Ha Noi and Ho Chi Minh are always in the Top outsourcing destinations of Tholons indexes in 2021. Still, Da Nang city, located in the center of Vietnam, appears to be an ideal and potential hub for ICT in general.
Read also:
Final thoughts,
Together with the growing demand for innovative software solutions, hiring software developers can be a challenge for business organizations, especially those who want to accelerate the time to ship the product to market. Vietnam has been becoming an attractive and trusted hotspot to hire offshore software developers. Given that, you can take advantage of geography, a great pool of talents, cost-effective rates to quickly expand your development team and build your working solution.
Hopefully, this article will help you grasp the key figures to look at when hiring developers in Vietnam and increasing your chances of success in your software development journey.