Incorporated in 2013 and based in Da Nang, Vietnam, Enlab is a dedicated offshore software development company catering to bespoke software solutions on sound quality, transparency, and integrity.
With 7+ years of experience, Enlab Software has delivered +50 projects successfully to clients in different geographies. It has enabled Enlab Software to get a recommendation from 15+ clients and earn a prominent position in the market.
Enlab Software's mission is to help transform the way people do business and increase overall productivity and efficiency via presenting smart enterprise solutions. The company holds a team of engineers from different experiences and backgrounds but having the same passion for leveraging cutting-edge technologies to construct world-class digital products.
Developing trust through iterations and working at their best to offer excellent solutions, Enlab Software gets listed in the list of top companies at GoodFirms. Ergo, the GoodFirms interviewed Vinh Tran, the CEO of Enlab Software, in which he described the firm and his core services to the clients.

Starting with the interview, Vinh proudly states that the firm specializes in .NET, Xamarin, and Flutter technologies. Engineers focus on custom software development for SMEs and startups, ensuring they have high-performing bespoke software solutions that accelerate their business growth.
Describing the idea behind the business's commencement, Vinh mentions that in 2013, as an experienced software developer, he held a strong passion for building high-class enterprise software. Back in the day, he realized that the demand for enterprise solutions from businesses was fast increasing. It motivated him to make a software lab where he could work together with other passionate developers to pursue that dream.
"Enlab is the acronym for Enterprise Lab, where we committed ourselves to master developing high-performing, secure, and scalable software solutions for our clients," explains the CEO. Enlab genuinely believes that developers with technical excellence and integrity will significantly value many businesses.
Web application development is one of the core services at Enlab Software. With honed skills in .NET, Angular, Python, and cloud platforms, Enlab can provide full life-cycle software development with iterative development methods to release products faster than expected. As a result, Enlab gets full credit from clients and is featured amongst the leading web development companies in Vietnam at GoodFirms.
Following is a review on GoodFirms that confirms the quality of the websites developed at Enlab Software.
Elaborating on software development services, Vinh beams that with the laser focus on developing custom enterprise software solutions for many years, it has become their competitive edge to demonstrate the capabilities and compel the clients to take a call to action.
Enlab Software typically serves clients from education, finance, real estate, and hospitality. The firm also has many clients in different domains, like marketing, recruitment, procurement, or ERP. Importantly, most of the clients stay with the firm for the long term.

When it comes to the custom software solution, several critical factors lead to Enlab's achievements. Firstly, it's the effectiveness in collecting requirements and translating them into an iterative development plan where the clients collaborate closely with the team to build the most valuable product. Secondly, the technical experience and skills are sound to deliver projects at speed. Thirdly, Enlab is backed up by their happy clients' recommendations. As a whole, they enable Enlab Software to earn a title as one of the top custom software development companies at GoodFirms.
The review given by Hey Flyp at GoodFirms reflects the quality service offerings rendered by Enlab Software.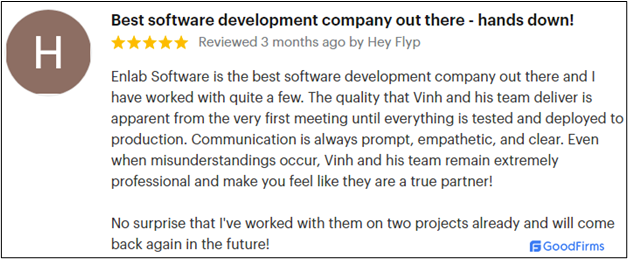 Above is the whole interview recap. You can quickly go through the detailed interview published at GoodFirms.
About GoodFirms
Washington, D.C.-based GoodFirms is an innovative B2B Research and Reviews Company that extensively combs the market to find top Software Development, Web Development, and SoftMobile App Development Services firms that offer the best services to its customers. GoodFirms' extensive research processes help rank the companies, boost their online reputation, and help service seekers pick the right technology partner that meets their business needs.
About the author
Anna Stark

She is a staff writer with GoodFirms – a Washington D.C.-based B2B Research Company that bridges the gap between service seekers and service providers. Anna's current role includes gauging companies' performances and their key attributes and putting them into words. She firmly believes in the magic of words and is always on the lookout for new strategies and ideas that companies have gladly embraced, and then helps them shine a light on those to make their identities shine brighter.